651-653-TTKD(8853)
White Bear Lake, MN
Sun Yi's Academy is a nationally acclaimed Martial Art School of Traditional Tae Kwon Do.
We promote health and better living through conditioning of the Mind, Body and Spirit, by teaching the practices of Grand Master Chae Sun Yi.
Sun Yi's Academy in White Bear Lake is part of nationally renowned Sun Yi's Academy of Traditional Tae Kwon Do, more than 35 years strong and growing we have locations across the United States. With thousands of currently practicing black belts in locations ranging from North Carolina, Kansas and Minnesota, to Colorado and California, each Sun Yi's Academy, like each Sun Yi's member, is part of an extended family-like support system.


Each year instructors and students from across the nation return to Sun Yi's Academy headquarters in Topeka Kansas for Martial Arts special training seminars, as well as for the Traditional Tae Kwon Do Championships held each spring. As a member of Sun Yi's Academy in White Bear Lake, you will enjoy the benefits of joining this large and growing family of schools.
Tae Kwon Do as an Art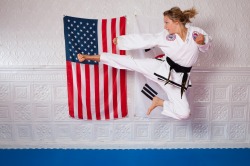 Through the coordination of control, balance, and technique in Tae Kwon Do forms, Tae Kwon Do is regarded as a beautiful and highly skilled Oriental Art. Through the demonstration of Tae Kwon Do forms, you will see the skill and technique required to produce a perfect form (Hyung).
---
Tae Kwon Do as a Sport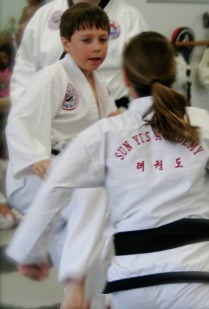 As a sport, Tae Kwon Do is rapidly taking its place in the world sports arena. Blocking, kicking, and punching techniques all contribute to making Tae Kwon Do one of the most exciting competitive sports. Tremendous skill and control are required in Tae Kwon Do. Its challenge lies in the proficient use of the techniques, yet without having any heavy body contact. Because of this refrain from bodily contact, contrary to popular belief, injuries are infrequent and minor, which makes Tae Kwon Do safer than most other sports.
---
Tae Kwon Do for Self Defense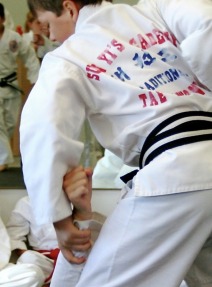 Tae Kwon Do is considered the ultimate in unarmed self defense because of the powerful technique that is involved. In Korea, The Presidential Protective Forces are all trained in Tae Kwon Do. Now many other countries are adopting Tae Kwon Do into the training of their Protective forces.
---